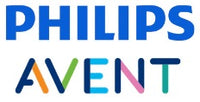 Philips Avent, a renowned brand in the world of baby care, seamlessly blends innovation and excitement to create products that make parenting an enjoyable adventure. With a commitment to providing top-quality solutions, Philips Avent offers a wide range of innovative baby care products designed to make life easier for both babies and parents.

Picture a feeding experience filled with laughter and delight, made possible by Philips Avent's thoughtfully designed baby bottles. These bottles are meticulously crafted to mimic natural breastfeeding, ensuring maximum comfort for your little one. For busy moms seeking convenience and flexibility, their breast pumps offer a hassle-free solution for expressing milk on the go.

Safety is of utmost importance to Philips Avent. Their bottle sterilizers eliminate any worries, providing parents with peace of mind. Additionally, their pacifiers offer soothing comfort to calm and comfort your bundle of joy. Stay connected and reassured with their state-of-the-art baby monitors, allowing you to keep a watchful eye over your little one with ease.

Philips Avent believes that happy babies and happy parents go hand in hand. That's why their products are designed to promote your baby's healthy development while making your life as a parent more manageable. Through extensive research and a dedication to quality, Philips Avent has become a trusted brand for nurturing and caring for your little one.